Gospel Singer Mercy Chinwo Thrills Crowd At PDP Rally In Akwa Ibom
Gospel Singer Mercy Chinwo Thrills Crowd At PDP Rally In Akwa Ibom
Nigerian gospel singer, Mercy Chinwo serenaded thousands of Peoples Democratic Party's (PDP) supporters at the flag-off of the party's rally in Akwa Ibom State.
On Tuesday, 8th November 2022, the Port Harcourt-born gospel singer Mercy Chinwo entertained the massive crowd that showed up at the PDP rally. With her signature beret, she mounted the colourfully decorated podium and became the cynosure of all eyes as her mellifluous voice blended with the sweet rhythm of musical instruments to produce harmonious tunes.
Furthermore, the 32-year-old dazzled Akwa Ibom State Governor, Udom Emmanuel; his wife, Martha; and thousands of party loyalists in the state to gospel songs in local dialect and pidgin English.
Some of the songs she sang include 'See the way you love me…'; 'Jesus, you love me too much', amongst others. "Sister Mercy, this is electrifying," the governor enthused in his speech after her ministration.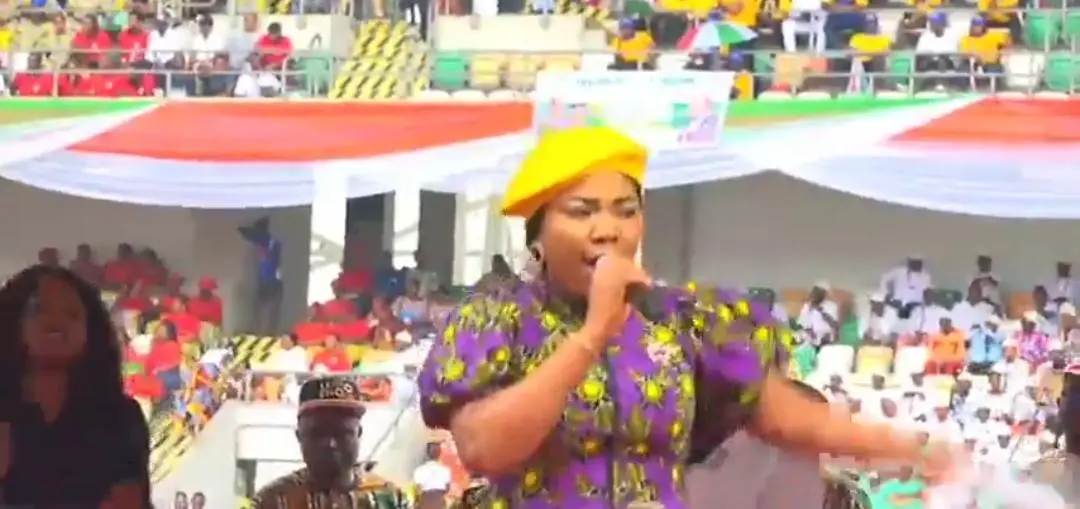 Meanwhile, since the kick-off season of the campaign, different celebrities including artists have shown support for their preffered candidates. Famous Afrobeat duo, Psquare declares support for the Labour Party candidate, Peter Obi, amongst others.
In addition, Mercy Chinwo's performance at the rally has been met with several reactions from fans who weigh the morality of a gospel artist performing at a political rally. Moreover, other fans insist that she was only doing a paid job as an artist called to perform.